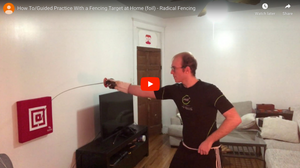 Part 1 How To/Guided Practice With a Fencing Target at Home (foil)
How To/Guided Practice With a Fencing Target at Home (foil) 
5 pieces of Advice for target practice
1. Wear a glove and fencing shoes
2. Put a small piece of tape on your target to give you a specific point to aim for
3. Go slowly, not fast
4. Come from different positions, not just en guard
5. Be in distance so when you only slightly bend your blade when you hit.
Workout
1. Hit moving just the wrist 10 times each from the following starting positions
⁃ En guard with the point on their left shoulder
⁃ En guard with the point on their right shoulder
⁃ Where you like to hide your blade on a marching attack (in the video I come from 8)
2. Hit with half extension 10 times from:
⁃ En guard with the point on their left shoulder
⁃ Parry 4
⁃ En guard with the point on their right shoulder
⁃ Where you like to hide your blade on a marching attack
3. Hit with full extension 10 times from:
⁃ En guard with the point on their left shoulder
⁃ Parry 4
⁃ En guard with the point on their right shoulder
⁃ Where you like to hide your blade on a marching attack
4. Hit with extend advance 10 times from:
⁃ En guard with the point on their left shoulder
⁃ Parry 4
⁃ En guard with the point on their right shoulder
⁃ Where you like to hide your blade on a marching attack
5. Hit with lunge 10 times from:
⁃ En guard with the point on their left shoulder
⁃ Parry 4
⁃ En guard with the point on their right shoulder
⁃ Where you like to hide your blade on a marching attack
---
10 comments