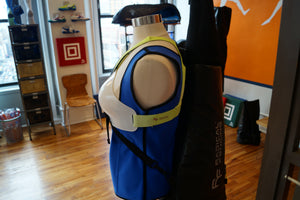 Summer 2020 Store Reopening Announcement and details
Starting Monday 6/22/20 our Manhattan retail shop will be open on weekdays from 11:00-7:00 EST. The following safety measures will be in place:
A
t the Radical shop we're focused on limiting occupancy and giving everybody lots of room, and renewing our focus on one‑on‑one, personalized service.
The following steps are being taken to make sure our reopening meets recommended safety protocol:
1) Face coverings will be required for everyone in the shop and customers, and we will provide them to customers who don't bring their own. 
2) Courteous inquiries will be conducted at our door, and posted health questions will screen for those with symptoms — like cough or fever — or who have had recent exposure to someone infected with COVID‑19. Also, a US-made pharmaceutical-grade hand sanitizer will be available at our door and in the shop.
3) Throughout the day, we will be conducting enhanced deep cleanings that place special emphasis on all surfaces, display products, and trafficked areas. 
4) We will also follow recommended guidelines to sanitize clothing that customers try on.
5) We've also taken the last 4 months time to consider how we can serve our customers' needs even more effectively, whether online or in our store. This will mean curb‑side pick‑up and drop off. If you choose to buy online, we can ship to your home or make your new items available for convenient pick‑up at our shop. 
6) And we will continue to focus on bringing excellent and knowledgeable customer service and support online, over the phone and in-person to help you with any questions you might have.
---
9 comments